POUR MOI

partner

MICKAEL BARZALONA
WINS THE INVESTIC DERBY 4.00pm SATURDAY 4th JUNE 2011
FRANCE'S 22 TIMES CHAMPION TRAINER ANDRE FABRE
FOR MRS JOHN MAGNIER, M TABOR AND D SMITH
ANDRE FABRE A TRULY REMARKABLE HORSEMAN
19 YEAR OLD MICKAEL BARZALONA TURNS HIS DEBUT RIDE IN THE BRITISH
DERBY INTO A WINNING ONE.
AN EXCITING YOUNG RIDER WORKING WITHIN THE RIGHT ENVIRONMENT
A GIFTED PARTNER ACCURATELY IN TUNE WITH HIS RIDES
FABRE: "THIS IS MY BEST CHANCE TO WIN THE DERBY."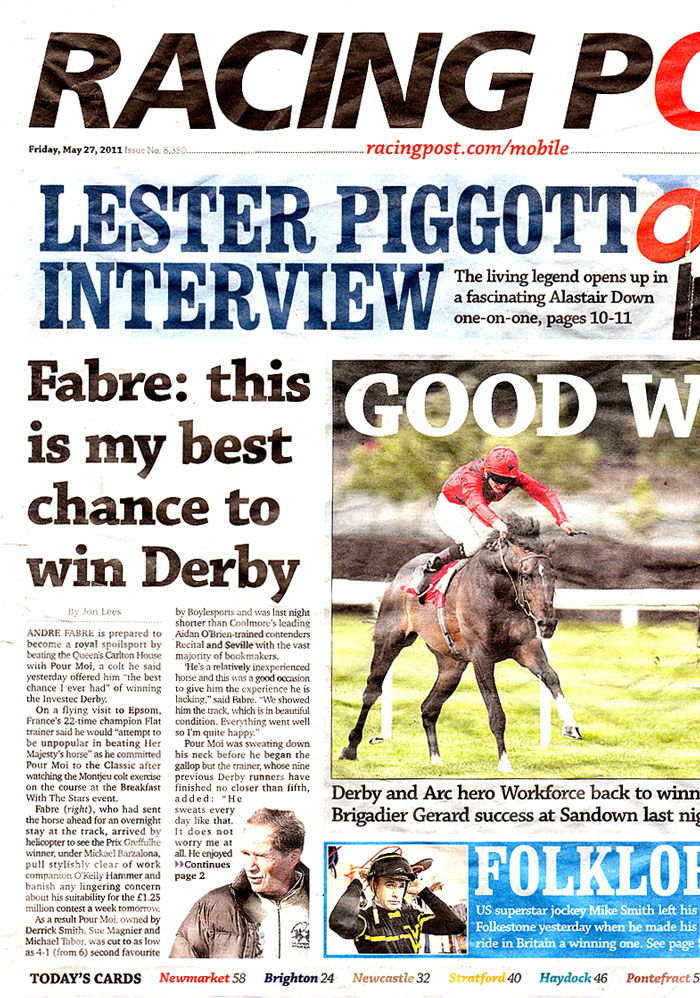 THE RACING P

O

ST FRIDAY MAY 27 2011
"LESTER PIGGOTT INTERVIEW The living legend opens up in a facinating Alastair Down one-to-one, pages 10-11.
"GOOD WORK pic Derby and Arc hero WORKFORCE back to winning ways with battling Brigadier Gerard success at Sandown last night p8-9.
"FABRE: "This is my best chance to win a Derby" JON LEES reports.
"ANDRE FABRE is prepared to become a royal spoilsport by beating the Queen's CARLTON HOUSE with POIR MOI, a colt he said yesterday offered him 'the best chance I ever had of winning the Investic Derby.
"On a flying visit to Epsom, France's 22-time champion Flat trainer said he would "attempt to be unpopular in beating Her Majesty's horse" as he committed POIR MOI to the Classic after the MONTJEU colt exercise on the course at the Breakfast With The Stars event.
"Fabre, who had sent the horse ahead for an over night stay at the track, arrived by helicopter to see the Prix Greffulhe winner, under MICKAEL BARZALONA, pull stylishly clear of work companion O'KELLY HAMMER and banish any lingering concerns about his suitability for the £1,25 million contest a week tomorrow.
"As a result POIR MOI, owned by D Smith, Sue Magnier and Michael Tabor, was cut to as low as 4-1 (from 6) second favourite by Boylesports and was last night shorter than Coolmore's leading Aiden O'Brien-trained contenders RECITAL and SEVILLE with the vast majority of bookmakers.
"He's a relatively inexperienced horse and this was a good occasion to give him the experience he is lacking, said Fabre. 'We showed him the track, which is in beautiful condition. Everything went well so I'm quite happy ........"
"Gosden leads call for increased media focus ....With the Queen's CARLTON HOUSE the hot favourite, racing has been gifted an opportunity to spread it's message way beyond the normal parish boundary and the Derby-winning trainer said'It would be fantastic for the Queen and wonderful for racing, and once we get through the European Cup final I'd like to see it hitting the headlines a little bit more than it has been. It's something to get truly excited about."
GRAHAM DENCH Reports "FALLON Derby ride still in doubt after KHAN works."
"FOLKLORE US superstar jockey MIKE SMITH left his mark on Folkestone yesterday when he made his first ever ride in Britain a winning one."
JULIAN MUSCAT
"Senses growing optimism behind POUR MOI'S Epsom bid.
"FABRE DECENDS ON THE DOWNS TO SEND US HIS CLASSIC MESSAGE .....
"POUR MOI'S has been lapping the paddock for a while on his toes initially, subsequently relaxed , at all times with a swagger of self-importance. His flashing tail conveys his desire to get on with the task in hand.
"All is well with POUR MOI'S but what of his master? There is no sign of Andre Fabre at Epsom. As regular Fabre watchers this is a crucial piece of information.The golden rule is that you should never back his runners outside of France unless he is there to saddle them. They don't win in his absence.
"So how could we entertain POUR MOI without Fabre. The dilemma is quickly resolved. From out of the clouds on this blustery morning comes the tell-tail sound of whirling blades.
"The great man was looking down from high upon the undulating greensward that has dashed so many of his Derby dreams.
"When Fabre safely landed POUR MOI is allowed to commence. So can the rest of the show- and what a show it is. So eager is the retiscent Frenchment to speak that he all but snatches the microphone from Clare Balding.
"He obviously has something he wants to share with us and in one short sentence he delivers this morning "POUR MOI is the best chance I've ever had" - short, sweet and sufficient for the bookies reaching for their shares.
"Its interesting to consider the merits of Fabre's declarations."
ARAZI