TUESDAY MAY 7th RACING P

O

ST 2013
WEEK MONDAY MAY 6th TO SUNDAY MAY 12th

REVIEW YESTERDAY'S RESULTS
PREVIEW TODAY'S CARDS
http://www.racingpost
.com/
news/live.sd
TRIBUTES FOLLOW A TRAINER AND MENTOR WHOSE LEGACY LIVES ON
"Reg Hollinshead died on Monday morning in hospital, after a ten day stay there. His son Andrew was at Warwick supervising the yards three runners, he said "Dad was a legend, one of a kind. He has been in poor health. He has been in hospital for the last ten days so it wasn't a total shock, but when it happens of course it's still a shock.
"We have three runners here today and we were going to take them out but there's no doubt about it, he would have wanted them to run, so we are running."
"He was fantastic, a very good trainer a very nice man and a legendary person"
"What four of his pupils say about Reg.
KEVIN DARLEY "Reg wasn't afraid of giving people chances."
WALTER SWINBURN "Without him I would probably never have ridden Shergar."
JAMIE SPENCER "Reg was an absolute gentleman and a lovely man".
WILLIAM BUICK "He was fantastic and it was a good learning curve."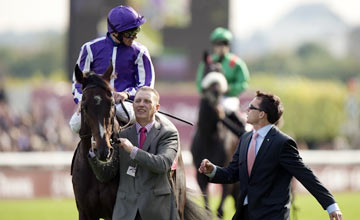 Frankie Dettori aboard Camelot talks to Aidan O'Brien before the 2012 Arc
PICTURE:

Edward Whitaker (racingpost.com/photos)
Frankie Dettori riding work at Ballydoyle

FRANKIE DETTORI was on Monday part of Aidan O'Brien's work-riding team as the world's most famous jockey continued preparations for his May 20 comeback.
Download the Racing Post iPad edition from 8pm to read the full story, or buy tomorrow's newspaper