RACING P

O

ST THURSDAY SEPTEMBER 20th 2012
WEEK MONDAY SEPTEMBER 17th TO SACRED SUNDAY SEPTEMBER 23rd .
Going update for today
Latest going news from all the tracks racing today is now available on Horse Race Companion. Keep checking throughout the day for all the latest news direct from the track.
(2 hours ago)
Inspection at Ayr
Officials at Ayr will inspect at 8am as standing water is beginning to form puddles on the track after heavy rain overnight.
(2 hours ago)

Ayr inspect for Friday
Friday's meeting at Ayr is subject to a 6.30am inspection.
(43 mins ago)
REVIEW YESTERDAY'S RESULTS
PREVIEW TODAY'S CARDS
SIR HENRY CECIL
FRANKEL WORTH GETTING UP EARLY FOR YESTERDAY MORNING
RP David Milnes
SHANE FETHERSTONEHAUGH
partner
FRANKEL
Yesterday FRANKEL worked along under

SHANE FETHERSTONEHAUGH

over
7 furlonges on the Newmarket watered turf gallop, as dawn broke upsides BULLET TRAIN observed closely by Sir Henry. Joined with an array of camera crews and photographers.
DATE FOR YOUR DIARY
QIPCO CHAMPIONS DAY SATURDAY OCTOBER 20th 2012
http://www.britishchampionsseries.com/races/qipco-british-champions-day.html
Sir Henry Cecil British Champions Day Feature - Part 1
http://www.youtube.com/watch?v=LeEgfZNcfqs&feature=related
Sir Henry Cecil Interview June 8, 2012 by C4 NICK LUCK

(bloodhorse illiterate)

meets up with Sir Henry Cecil.
It is not easy for a true top professional bloodhorse literate horseman as Sir Henry when interviewed by a bloodhorse illiterate person. The reason why Sir Henry so carefully measures every word he says.
Frankel Tribute 2012 RP Tom O'Ryan
http://www.youtube.com/watch?NR=1&v=SCp9OxAMxpI&feature=endscreen
http://www.youtube.com/watch?feature=endscreen&v=DAt461h-gFM&NR=1
http://www.youtube.com/watch?v=LeEgfZNcfqs&feature=related
Frankel The Wonder Horse - Brough Scott
RACING POST ANNUAL 2012
The great horses have a magic about them, there is both a wonder at what they do and a worry that they might lose it. Frankel was already a spell maker that first morning in March.
It was not just what he had done, his four victories had got Henry Cecil quoted as saying he was the best two year old he had ever trained. It wasn't even the limitless potential of what Frankel might do. It was the stalking presence of his walk, the sense of hidden but explosive power in those hindquarters which converted at the gallop into that huge, forward-reaching stride as he stretched the reins up Warren Hill.
There are many video interviews etc of Sir Henry Cecil regarding FRANKEL and other great racehorses Sir Henry has trained to be found
on the internet, that show the true bloodhorse literacy of the world renowned mastercraftsman Sir Henry Cecil. Sir Henry believes that FRANKEL is the best colt he has ever trained. Much can be learned,and observed from watching and noting down these video films, Sir Henry carefully and patiently explains the perspective in relation to bloodhorse literacy from the horses perspective. Much can be learned from taking note of what Sir Henry so carefully

explains.
Frankel in slow motion
http://www.youtube.com/watch?v=L7MChh1F4nI&noredirect=1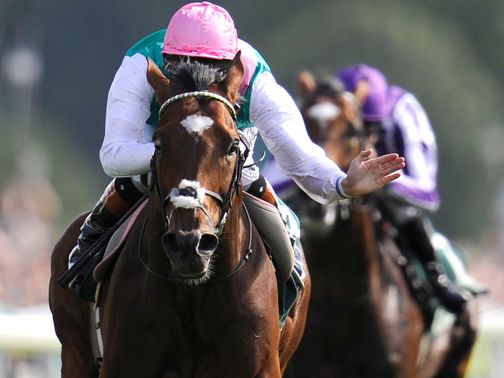 The wait for a Triple Crown winner continues after the Aidan O'Brien-trained Camelot, so impressive in the QIPCO 2,000 Guineas at Newmarket and the Investec Derby at Epsom Downs, failed to reel in Godolphin's Encke (56) when coming up three quarters of a length short in Ladbrokes St Leger at Doncaster on Saturday, September 15.
Camelot (168), however, has a 22-point lead over Frankel (144) in current standings for the Cartier Horse Of The Year honours, while Moonlight Cloud (100) has emerged as a potential threat to the leading pair after gaining her second Group One victory of the season in the Qatar Prix du Moulin de Longchamp on Sunday, September 16.
What's it like for two true bloodhorse literate handler riders
to realise they have a seriously special horse in training?
Team CLIVE BRITTAIN, JOCK and MYSTIKO
Read Clive Brittain's New Book
Clive Brittain: The Smiling Pioneer
[Hardcover]
URGENT "TURFCALL ii" RED ALERT
2001 - 2012
Save our true Professional Horsemen and Horsewomen Now

A Dying Profession through bloodhorse illiterate regulation within government and within British horseracing government (BHA) who refusing to address this problem and set it to rights for once and for all time. A true balance can be achieved

as we notice within the Channel 4 Horseracing Team, The Morning Line and C4 live coverage from the racecourses in the afternoon's.
Well practised in-tune C4 horseracing teams that really work in practice far to

valuable to change, or to loose, or to throw away, as follows:-
John

(greatest jockey)

(bloodhorse literate)

Francome and
Jim

(Jimbo)

(form essentials)

Mc Grath
John

(Mac) (punters champion)

McCririck and
Tanya
(female) (punters champion)
Stevenson
Alice

(in wonderland) (bloodhorse literate)

Plunkett and
Alastair

(Al) (a truly great literary horseracing specialist)

Down
Emma
(M'S) (bloodhorse literate)
Spencer and
Derek

(Tommo) (bloodhorse literate)

Thompson
Mike

(catt) (presenter)

Cattermole and
Nick

(lord snooty) (host presenter)

Luck
Simon

(calling the horses)

Holt
Lesley

(hostess presenter)

Graham
February 14th 2001 - September 2012
All these facts were bought to light in 2001 by Turfcall.

Now to date September 20th 2

012 - 11 years on there has been absolutely no action taken to sort any of these issues out by the people responsible (BHA) (bloodhorse illiterate) (Lyn Williams for one, totally off the planet). To have a bloodhorse illiterate British horseracing government still in the year 2012 is a disgrace. There needs to be a True Bloodhorse Literacy Zone Key Presence within Horseracing government. British political government need to take notice on issues as this and remove all those in top positions who have no idea of what they are doing, or are expected to be doing. (eg: Lyn Williams)
1. INTRODUCTION - February 14th 2001. REMINDER - September 20th 2012
Regarding in particular the proven true bloodhorse literate professional horsemen and horsewomen achievers working at the top of this their profession. (eg Sir Henry Cecil Team) Without these highly skilled people there would not be FRANKEL as we see and admire him to be today)
YESTERDAY'S RESULT 4.05 LISTOWEL
https://www.racingpost.com/horses/result_home.sd?race_id=562295&r_date=2012-09-19&popup=yes#results_top_tabs=re_&results_bottom_tabs=ANALYSIS
4.05 Guinness Kerry National Handicap Chase (Grade A) (4yo+) Winner €96,400 ATR. Going Heavy 3m.

Number of runners: 18
YESTERDAY'S RESULT 4.05 LISTOWEL
https://www.racingpost.com/horses2/results/home.sd?r_date=2012-09-19
Ayr card lost after heavy rain hits track
THE first day of Ayr's William Hill Gold Cup meeting has been called off after heavy overnight rain left parts of the track waterlogged.
A total of 9mm of rain fell overnight on the course forcing officials to inspect the track at 8am when they were left with little choice but to call off Thursday's meeting.
http://www.racingpost.com/news/live.sd?event_id=1003355
BIG RACE ENTRIES