RACING P

O

ST TUESDAY SEPTEMBER 18th 2012
WEEK MONDAY SEPTEMBER 17th TO SUNDAY SEPTEMBER 23rd
PREVIEW TODAY'S CARDS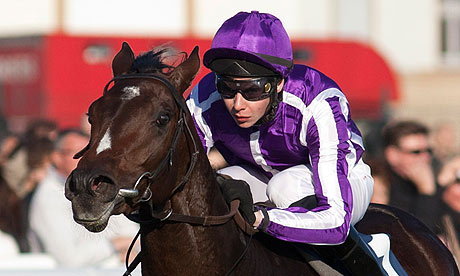 RP Jonathan

Mullin brings us St Leger update news
O'BRIEN: CAMELOT too lit up after clipping heels
JOSEPH reveals early setback may have derailed Triple Crown bid.
"JOSEPH O'BRIEN yesterday revealed that an early incident during Saturday's Ladbrokes St Leger

contributed to CAMELOT''S shock defeat that prevented him becoming the first Triple Crown winner in 42 years.
Speaking for the first time about the race at Listowel , the jockey reported
the 2-5 shot's heels were clipped, attributed the incident to the keenness his mount showed in the early part of the Classic in which he finished

runner-up to 25-1

chance ENCKE.
"O'BRIEN

said: He had his heels clipped after about a furlong and that just lit him up, I think.
"After that he was always going a gear too high - not mad keen or anything, but quicker than I would have liked I had to ride him for the pace horse

that he is and the winner that got away.
"All my fella did really was stay on and if you were told that was the horse who came from second- last to win the Guineas you wouldn't believe it.
"He just didn't pick up like he did at Newmarket and I think it was simply because he was always going that much quicker. I know he is better than that."
LONGCHAMP STILL 'ON CARDS' FOR CAMELOT
AFTER LEGER DEFEAT
"

O'Brien reported CAMELOT in rude health after his Doncaster defeat and hinted the 2,000 Guineas and Derby hero could yet reappear this season, with the Qatar Prix de L'Arc de Triumphe on October 7th "still on the cards" .
"Aidan O'Brien's star was taken out of the Arc betting after his St Leger defeat, but Joseph the trainer's son, added : "The Arc is a definite possibility, as are all those other races left in the season. That will be something that Dad will discuss with the owners before a decision is made. They're all on the cards

for CAMELOT.
"The main thing is he's arrived home safe and sound and has come out of the race well.

The likes of IMPERIAL MONARCH and St NICHOLAS ABBEY are still in the (Arc} picture too and I'd imagine the ground

will determine a lot."
"The jockey said the gloom of Doncaster on Saturday was

lifted by the warm reception racegoers gave the O'Brien family when they arrived back in Ireland for the Irish St Leger that evening.
"The flight back wasn't easy, but that's racing, and the welcome we got when we came back to the Curragh was very special. You have to do credit to
CAMELOT 'S owners for taking the decision to try the Triple Crown. The easier thing would have been to go a different route, but they didn't shirk it. "
"CAMELOT, who is entered in the Queen Elizabeth 11 Stakes at Ascot on October 20, ran 5lb below his best in the St Leger, according to official BHA ratings.
"He has been given a rating

of 119 for the performance - the same mark he registered in the Qipco 2,000 Guineas over a mile at Newmarket in May. The colt recorded 124 in the Derby in June."
J Margaret Clarke Turfcall Comment
Such a deadly thing as this to happen in any race is unacceptable. All jockeys going out to ride in any, and all races need to know that such dangerous riding as this is totally unacceptable Anyone found to default who fails to take care to be sent to the British Racing School for a months correction course. To be financed by the British Horseracing Authority due to the fact that they have failed to act to uphold the Bloodhorse Literate Rules of British Horseracing over the last four decades.
JOSEPH tells us that "CAMELOT had his heels clipped after about a furlong into this race, which lit him up. Who was the guilty party?

Such a deadly thing as this to happen in any race
is unacceptable Where are the bloodhorse illiterate regulators at on the "Clipping Heels "

issue, no where

at all it seems. One of the most dangerous riding errors under the sun, a killer
Jockey dies after fall at California track
By
Melissa Abbey
and
Steve Almasy
, CNN
July 7, 2012 -- Updated 1855 GMT (0255 HKT)
Very painful

for CAMELOT, how painful and how badly CAMELOT'S heels

were injured, cut into, has not been stated to date.
Horses are flight animals. This is how horses respond to any and all danger, they run away from it. CAMELOT when experiencing the pain of the clip coming from behind him will have attempted to get away ... as JOSEPH says "It lit him up ..."

CAMELOT feeling the pain of this sudden hit coming from behind,

caused him to flee as fast as he could.
In this case as fast as JOSEPH would let him go to get away from the danger, he perceived coming from behind him, something that he could not see .....

CAMELOT endeavouring to get away from. As JOSEPH tells us "it lit him up. Horses have greased lightening responses when threatened - frightened
.

Clipped heels can be incredibly painful for the horse in some cases horses are so sore they almost

act like they

have a fracture,

many have lost their lives

.
LADBROKES St LEGER 2012
It can be noted that Joseph is racing on the inner up the rail in a close bunch of horses, JOSEPH hoping for a gap which never came, hindering CAMELOT checking him in his stride as JOSEPH switched him wide as he attempts to catch ENCKE