RACING P

O

ST MONDAY DECEMBER 17th
2012
WEEK MONDAY DECEMBER 17th to SUNDAY DECEMBER 23rd.
PREVIEW TODAY'S CARDS
REVIEW NAVAN

YESTERDAY'S 12.25 BEGINNERS CHASE
BOSTON BOB 7 11-12
partner RUBY WALSH
GOING: HEAVY.
8 ran Distances: ½l, 37l, 16l
TIME 5m 59.00s (slow by 72.00s)
Kingwell likely for Rock On Ruby
MONDAY'S JURY IN TODAY'S PAPER DON'T MISS IT

Rock On Ruby's trainer Harry Fry is part of the Monday jury in today's paper, and he said: "I was delighted with Rock On Ruby, he'll improve no end and the Kingwell looks the next stepping stone."
(2 hours ago)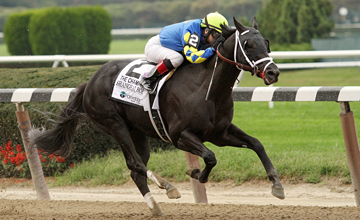 Shanghai Bobby: leading Kentucky Derby chance for Todd Pletcher
PICTURE:

Jessie Holmes/EquiSport Photos
Pletcher holds all the aces for
Kentucky Derby
IT wasn't long ago they said Todd Pletcher couldn't win the Kentucky Derby.

It's hard to know precisely what 'they' were implying. Was the multiple champion trainer thought somehow incapable? Perhaps he was he trying not to win the nation's favourite race? Or was he simply cursed by a witch with an aversion to roses?

Like all dead ends (trends), this incidental factoid became a historical footnote when the law of averages cut the handler a break in 2010 with Super Saver, his 25th runner in the opening Classic.

Now Pletcher has proved can win the Derby, he can start running the stats the other way - before long the trend might have flipped from 'Pletcher can't win the Derby' to 'Pletcher can't stop winning the Derby'.